A MESSAGE TO STUDENTS, PARENTS & GRANDPARENTS:
This is just a little note to say that I am missing all of you at the studio! I hope you are all staying healthy and safe and are finding time to paint, draw and use your imaginations together!
I am so sorry that all of my kids and adult art workshops, birthday parties, after school classes and lessons have had to be cancelled for the time being but I am looking forward to welcoming you all back to the studio when it is safe to do so.
I can't wait to see your smiling faces back in the cabin soon!
We are closely monitoring the situation and will also keep you posted about our 2020 Children's Summer Program of Music, Art & Drama as safety information becomes available.
In the meantime if you have not already done so please "LIKE" my Journey Through the Arts Facebook page where I have been posting free kids step-by-step drawing lessons to keep you all inspired. (They are also a fun activity to do as a family around the kitchen table or to entertain and relax and adults too!)
As always please keep sharing your beautiful artwork with me as I have started the Journey Through the Arts Online Children's Art Gallery on my Facebook page. Together we can keep happy, healthy and creative!
Thank you for all of your support!
Take care,
CHRISTINE
Journey Through the Arts
Email: journeythroughthearts@bellnet.ca
Call: (905) 885-0908

THE JOURNEY THROUGH THE ARTS STUDIOS IS LOCATED AT:
190 Hope St. N. Port Hope in a restored log cabin
OUR SUMMER PROGRAM is held at
The Old Art School (Molson's Mill) in Port Hope
ALSO OFFERED AT THE STUDIO
(Booked at your convenience)
**Art Birthday Parties for Kids: $15 per child plus HST
One hour in length
Includes art project, art supplies, juice, snack and goodie bag!
**Adult Paint Nights: $25 per person plus HST
1.5 hours in length
Includes art project and art supplies
** Private Lessons for Adults and Children: For Beginner to Advanced
$20 plus HST: 30-minute private lesson
$30 plus HST: 1-hour private lesson
Includes all art supplies
Lessons can include: drawing, painting, pen and ink, relief printmaking, charcoal, chalk pastel, scratchboard, watercolour and more!
**SPACES ARE LIMITED! I hope to see you at the studio.
FOR MORE INFORMATION ON ANY OF THE ABOVE PROGRAMS OR WORKSHOPS
OR TO REGISTER PLEASE:
Email: journeythroughthearts@bellnet.ca
Call: (905) 885-0908
THE JOURNEY THROUGH THE ARTS STUDIOS IS LOCATED AT:
190 Hope St. N. Port Hope in a restored log cabin
OUR SUMMER PROGRAM is held at
The Old Art School (Molson's Mill) in Port Hope
---
JOIN THE JTTA MAILING LIST! To receive a schedule of upcoming Saturday morning workshops please join our Mailing List by emailing: journeythroughthearts@bellnet.ca.
---
JOURNEY THROUGH THE ARTS ALSO OFFERS:
PRIVATE LESSONS for ADULTS & KIDS: Arranged to suit your individual schedule, these lessons can be booked after school or in the evening. Lessons are 30 minutes ($20 per lesson) or 1 hour ($30 per lesson). Private lessons include all art supplies. Lessons are based on your individual interests including mosaics, jewellery, painting on canvas, watercolour, printmaking and more!!
ART BIRTHDAY PARTIES: JTTA offers a fun and creative way to celebrate your child's birthday! Your private party includes all supplies, snacks and an art project for each of your guests. Parties are one hour in length and are held at our downtown studios. Parties are suitable for children 6-13 and are $15 per child. Please visit our website for project descriptions.
IN-THE-SCHOOLS PROGRAM: Invite JTTA to your school! Workshops are available for JK to Grade 8 in various media. All workshops are affordably priced at $6 plus HST per student, including all art supplies. Instruction is 2 periods in length and comes with an accompanying rubric that compliments the visual art curriculum.
FOR ADULTS: Paint Night: Why not gather a few friends together and come to the studio for a fun and creative evening. These workshops can be booked to suit your schedule and are offered in a variety of media including drawing, acrylic painting, watercolour, printmaking, scratchboard, chalk pastel and more. Never fear! These workshops will guide you through all the steps and will be taught in a laid back manner. Pricing will depend on the number of people attending. Please contact the studio for more information.
GUITAR LESSONS: Join our waiting list for private guitar lessons taught by Mike Woods of the bands Garage Dog and the Soul Shakers' Union.
WORKSHOP INFORMATION: Instructed by Christine Benson-Woods (A.O.C.A, B.F.A)
TO REGISTER: Phone: (905) 885-0908 • Email: journeythroughthearts@bellnet.ca
---
---
ART WORKSHOP TOPICS:
Below is an alphabetized list of art workshops that are taught at the studio. Workshops can be customized to suit any age of student- from young child (ages 6 and up) to adult.
Each workshop focuses on a particular technique and/or art movement. Art workshops for children are held on Saturday's from 10:00-11:00 and private lessons can be booked throughout the week at your convenience. For more information about any of the workshops listed below and scheduling please contact Christine at the studio!
A
A Trip to Japan- Brush and Ink Painting
About Pointillist Painting
Acrylic Painting
All About Egyptian Art- Hieroglyphic Alphabet Paintings
All About Skies
Autumn Chalk Pastel Landscapes
B
Becoming a Sculptor Using Clay
Being a Fashion Designer
Bold Self Portraits in Oil Pastel
C
Caricatures
Cartoon Art and Comic Strips
Cave Drawings
CD Cover Design and Responding to Music with Art
Celebrating Chinese New Year- Chinese Zodiac Animals
Celtic Art- Design Elements of Celtic Art
Ceramic Tiles Inspired by Greek Art
Collage and Assemblages
Contour Drawing
Creating a Fresco
Creating a Mandala
Creating a Navajo Sand Painting
Creating Cool Resist Drawings- Scratchboard
Creating Functional Art
Creating Monoprints
Creating Moveable Drawing Mannequins
Creating Trees- A Mixed Media Workshop
Cubist Paintings
D
Dare to Make Prints – Linocuts
Decorating Easter Eggs- Decoupage and Wax Resist
Delicate Ink Trees
Drawing Figures
Drawing Horses
Drawing Underwater Creatures
Drawing Your Pet
Dream Drawings and Surrealism
Dreamcatchers
E
Everything You Need to Know About Drawing
F
Fantasy Tree Drawings Using Chalk and Charcoal
Floorcloths
H
Handmade Paper Pictures- Papermaking
I
Illuminated Letters
Imaginary Beasts
Ink & Pastel Pets
Inspired by Africa- African Masks and Their Meanings
Inspired by Australia- Australian Aboriginal Art
J
Japanese Watercolour Fans
Jewellery-Making- what do Colours Mean?
Jungle Paintings
K
Kites
L
Learning About Abstract Art
M
Magnificent Glass Mosaics
Making a Family Art Quilt
Making a Paper Mola
Making a Stick and Elastic Book
Mask-making
Mixed Media Drawings
Mixed Media Assemblage
Mother's Day Gift Stones- Examples of Symbols and Their Meanings
N
Needle Felting
O
Outdoor Drawing Workshop
Owl Paintings on Canvas
P
Painting With Chocolate
Painting Birch Trees
Painting Figures
Painting Flowerpots
Painting on Glass
Painting Perspective
Painting to Music
Painting Trees in Full Bloom
Painting with Paper
Paper Batik
Paper Quilling
Pen and Ink Owls
Personality Portraits
Photo Collage
Picture Book Illustration
Portraits
Pottery
Printmaking
R
Recycled Paper Jewellery
S
Screenprinting on Fabric
Screenprinting on Paper
Sculptures in Clay
Self Portraits Inspired by Pop Art
Shibori and Tie-Dyeing
Soapstone Sculpture
T
T-shirt Painting
W
Wacky Wire Insects
Watercolour Animals
Wax Resist Drawings using Watercolour and Oil Pastels
Weaving
Windchimes Made out of Found Objects
Winter Trees- Painting the Canadian Landscape in Winter
Wire Sculptures
Wish Flags
Wish Scrolls
Z
Zodiac Banners
---
ADULT VISUAL ART WORKSHOPS
These workshops are aimed at adults who are looking for something creative and rewarding to fill their evenings! Whether you are looking to experiment, to try something new, to rekindle your creativity or to just have some fun, these workshops are a perfect way to introduce you to art making... The workshops are designed for beginners and will teach in a laid back and relaxed manner through demonstrations and examples. Workshops include printmaking, silk painting, watercolour, felt-making and more. All workshops are held at the JTTA studio at 27 Walton St. Port Hope (above Smith's Creek Antiques). Workshops are scheduled both during the week and on weekends to accommodate a variety of schedules. For more information on upcoming workshops please contact Christine at the studio!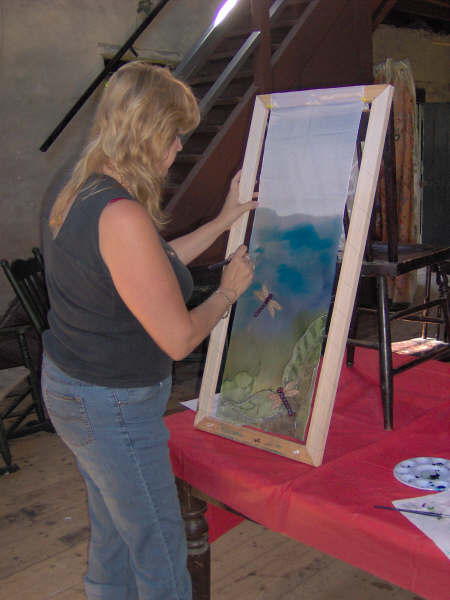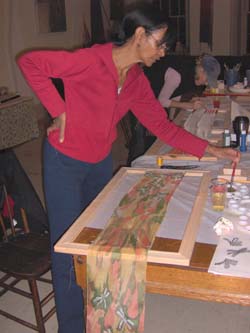 JOURNEY THROUGH THE ARTS
What Else is Happening at the Studio?
PROUDLY CELEBRATRING 7 YEARS OF ARTS EDUCATION
IN NORTHUMBERLAND!
Adult Visual Art Workshops: Have you always wanted to explore your creative side? If so, these workshops are a great chance to learn something new! All workshops are taught in a hand-on, laid-back manner. Make it a ladies night out… bring a friend! Workshops are $30 each and include all art supplies. A schedule of Adult Workshops will be announced soon.
Location:
Journey Through the Arts
Mailing Address: 190 Hope St. N., Port Hope, ON L1A 2P4
(905)-885-0908
journeythroughthearts@bellnet.ca
---